How to understand your audience
December 29, 2020 · 6 minutes reading time
Transcript of episode 3
Last week, I talked about how to find your audience. The basic idea was simple:
Look at what the people in your audience do.
Find some visible evidence of that, i.e. books, blogs, podcasts, conferences, etc.
Find one person who created that evidence, i.e. an author, blogger, podcaster, or conference organizer.
Look what they have to say on Twitter and how people interact with them.
Now, in this episode, I'm going to talk about what to do when you find "them". By "them", I usually mean the people in the audience that you (as a founder, creator, social media manager, and so on) will want to serve, e.g. with products, services, books, music, or interesting news.
When you find your audience, you will want to understand them, or as I always say, "get" them.
Last week, I did an experiment about this: What would happen if I tried to understand an audience that I know absolutely nothing about? I remember Arvid Kahl mention an audience of beekeepers, i.e. those people who keep bees and get honey and wax from them.
I searched on Amazon and found interesting and hilarious things about beekeeping … for example, a book about "Beekeeping for dummies", and a coffee mug with a well-known blond-haired man on it, saying something like: "You are the best beekeeper! The others are a total failure, and you know it!".
I searched on Twitter for the authors of those books and could not really find them. I continued to search with hashtags about #beekeeping and #beekeepers and found some interesting accounts:
@Scotbeekeepers – the Scottish beekeepers' association, a charity that aims to promote honeybee conservation, beekeeping & honeybee products across Scotland
@britishbee – the British Beekeepers' Association, another national charity supporting bees and beekeepers.
@HillHunterGPS – an Android app/game for hiking, that is climbing hills around the world.
Why did I find that hiking app? Well, it turns out that this app can spot the queen bee among a swarm of other bees. Smart, isn't it?
I entered these three Twitter accounts into my tool Get The Audience and it found out what the people in the audience tweet about. It displayed the most often used words as a word cloud: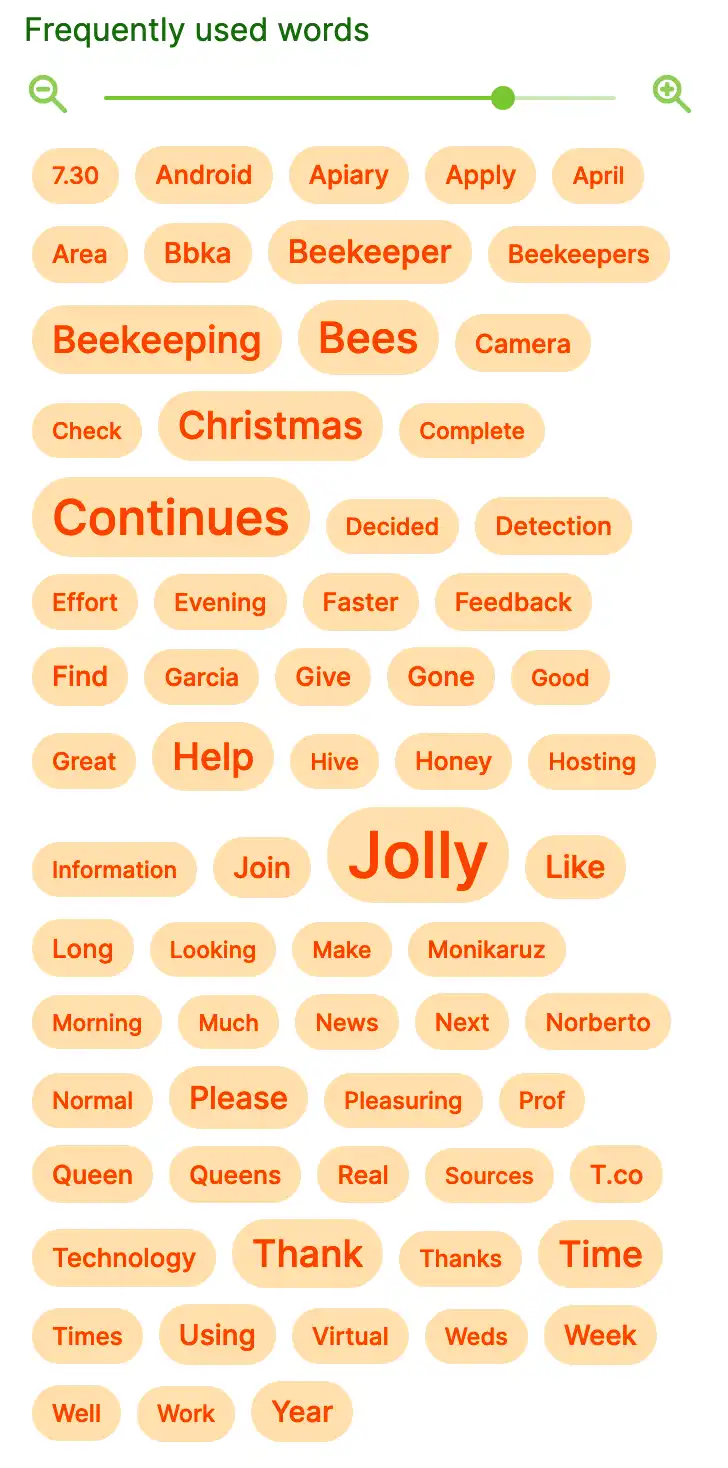 I clicked on "hive", and the system displayed several tweets where I could learn that beekeepers love hive cameras so that they can watch what the bees do, from a safe distance.
By looking at the tweets, I also discovered some more beekeeping domain language, e.g. I learnt that…
beekeepers also call themselves "apiarists" (because "apis" means "bee" in Latin)
an "apiary" is a protected location where beekeepers place the hives
I also found (by reading more tweets) that there is a whole movement to protect the bees because bees are an endangered species, and if they should die, we humans will die soon after them! Amazing and dramatic, isn't it? There are even courses to teach children about bees, honey, etc. in order to make them love and respect bees!
Why did I talk about beekeeping for so long?
Well, if YOU are someone who is here to create products, services, art or news, then understanding your audience will help and enable you in many ways:
You will learn their language so that you can join the conversation
You will understand their needs
You will see where the needs are well-served or under-served
For the under-served needs, you will be able to design new products, services, or anything that helps your audience fulfill their needs or reach their goals!
Amazing what I could learn in merely one hour, exploring those apiarists on Twitter, using GetTheAudience. Imagine what you could do for your own audience when you spend an entire day before you jump into conclusions and start creating stuff for a yet unknown need!
To sum this up, this is what I recommend:
Spend time to find your audience.
Spend time to understand them well.
Master their domain language (and their jargon)
Identify their needs, goals, and aspirations
Now for something not so entirely different. :-)
Progress on my startup GetTheAudience
It's about this week's status of GetTheAudience, my startup. Let's talk about the status in terms of Dave McClure's AARRR metrics, the classic (non-vanity) metrics for startups:
Acquisition
Activation
Retention
Referral
Revenue
Today is day number 65 of the startup, so I'm now nine weeks into that.
Acquisition
This week I've got 40 users in my system, that's 8 more since last week.
Activation
This week, my users have created 15 audiences, imported 19704 tweets, created by 13476 tweeps. (Isn't it cool what such a classic PostgreSQL database can find out with three simple SQL queries?)
select count(*) from audience where createdat >= '2020-12-22';
select count(*) from socialmediapost where createdat >= '2020-12-22';
select count(*) from socialmediauser where createdat >= '2020-12-22';

Retention
I do not really measure this, yet. However, when I think about it, I realize that I could measure it easily, automating two things:
I could write a database query that finds out how many users there are who have created new audiences, imported tweets, or imported new people who made those tweets.
I could also write another query that finds out how many of those users were already present last week or the week before.
That way, I would get some hard data about how many users I am able to retain per week. This would be my new metric for retention: Weekly active users (WAU).
Referral
This is something that I honestly don't know. I have no idea how many existing users refer GetTheAudience to someone else. Have you got an idea how to make this measurable?
Revenue
The biggest change that I made to the system this week was: I put it on Gumroad so that there is now a completely automated process for onboarding new users. People can buy a license code on Gumroad and sign up for GetTheAudience using that same license code.
Something really interesting happened: Gumroad does not really support products that are totally free, so I created a membership product with a minimum monthly price of zero dollars. What happened? Some users signed up for $0 as expected, but one user signed up for $5 – yay, that's my first revenue with GTA, much earlier than expected!
So yes, monthly revenue is now $4.28 (at least until they cancel). Who would have thought that?
Closing
That's pretty much it for this week. I hope you enjoyed my new, non-vanity, metrics. Have fun, stay healthy, and … Keep developing your audience, further and further!
–-
Outro
Thanks for listening to The Audience Explorer podcast, today.
You can find me on Twitter at @GetTheAudience and you can checkout the blog at gettheaudience.com
If you have any questions about this episode, reach out on Twitter or send an email to matthias@gettheaudience.com
If you want to support this podcast, please leave a rating in your favourite podcast player app. This will help other founders or creators to find this podcast about developing an audience for their product or service.