How to get your first audience
November 21, 2020 · 8 minutes reading time
Why is this important?
Every founder or indie creator has the same problem:
Who is the audience for whom I build?
What is their currently most significant problem?
Can I build something that solves that problem and sell the solution to them?
Without a clear understanding of your audience, chances are that you build something that nobody wants. Or, you will build nothing at all because you have no idea of who your audience will be.
With an audience that you're really interested in, you'll be much more motivated to serve them well. You will keep up the good work and build something that they love, won't you?
So let's get started.
What is an audience?
An audience is a number of people who share a common cause.
They could be interested in healthy nutrition, for example, or in making money online, or they want to organize their travel expenses … you name it!
As Arvid Kahl puts it:
Your audience should be the reason for your product to exist.
How do you get an audience?
A little planning
In his article Finding an Audience for Your Side Business, Arvid describes a five-step method to find the ideal audience for your product – I recommend that you do this 5-step exercise once for your own audience.
After that exercise, you will have found a niche where your ideal audience lives. Arvid wrote that this niche will have the following positive properties:
You're aware of the niche
You're interested in the niche
You've found interesting problems in the niche
You've seen signs of interest to pay for solutions of the niche
You've found that the niche is big enough for your business
A lot of doing
Now, when you have done the strategic exercise of the previous section, you are ready to go out into the world and try to contact people in your audience.
You will talk to them and find out about their problems. You will be able to understand them and serve them well with your product or service.
The process that I use for exploring an audience has four steps that I call the FUSE:
Let's take these one by one.
Find the people you want to serve
My home network is Twitter. When I work with audiences, I try to find them on Twitter first.
Casting a wide net with Twitter Search
Twitter has a cool feature that is called Advanced Search. You can find it here. Use advanced search to find tweets, people, photos, or videos.
You can find tweets by using keywords (what was said?) or twitter accounts (who said that?), and you can filter by engagement (replies, likes, retweets), or by the date (when did they say it?).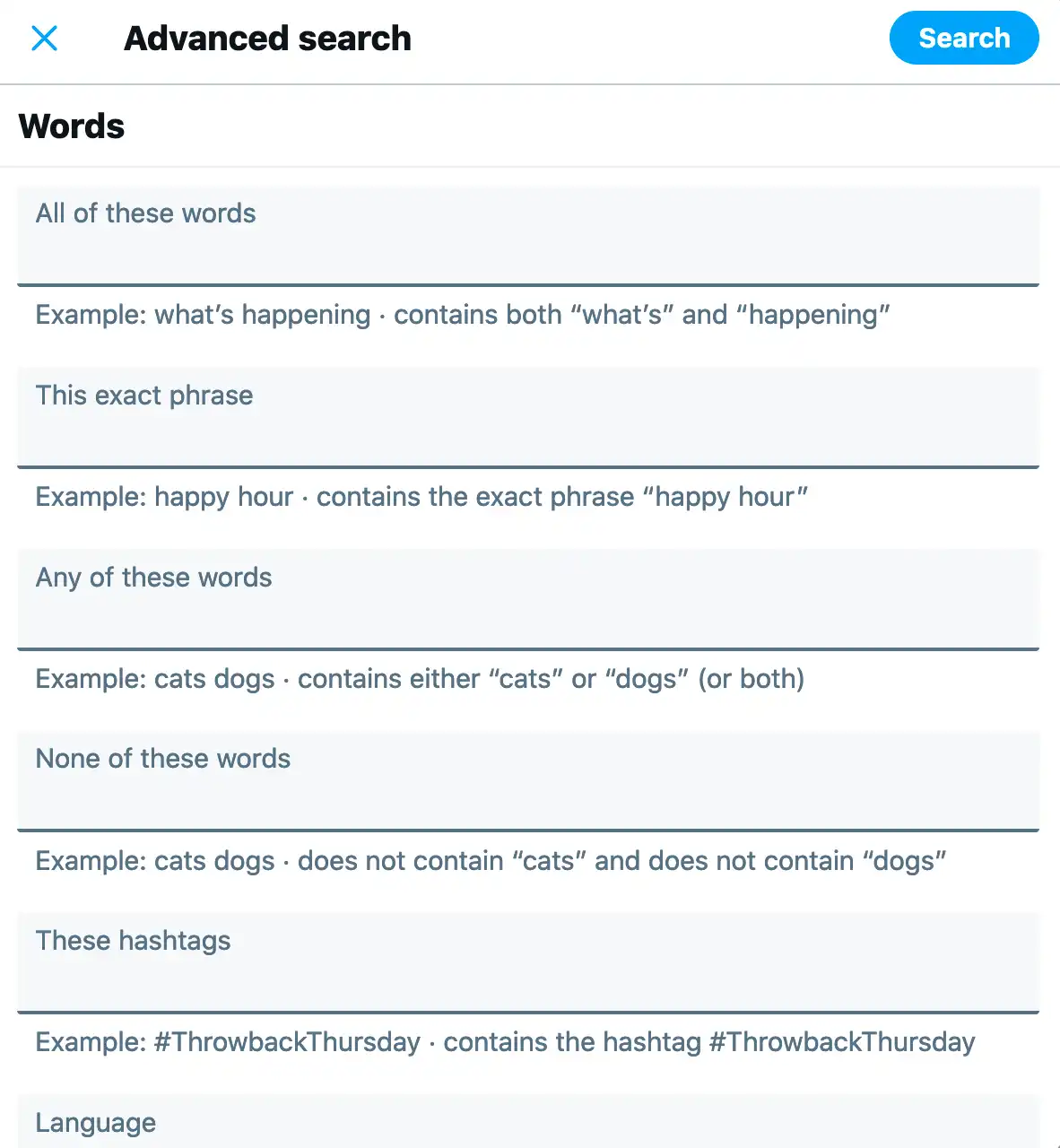 Example:
Let's say, you are in the cooking space, and you want to serve vintage cookbook collectors. You might start your search with:
This exact phrase: vintage cookbook
Minimum replies: 20
Why should you set the "minimum replies" filter? You want to explore an audience, i.e. people who talk to each other about a common subject, so that you can learn from their tweets how best to serve them.
There are people on Twitter who do not reply, they only tweet or retweet. Learning from those people is more difficult than from those who have a real conversation.
After browsing the search results for a while, you may find tweets like this one:
Eat Your Words host @cathyerway spoke to @meerasodha about her cookbook, "EAST: 120 Vegan and Vegetarian Recipes from Bangalore to Beijing," and recipes like Pumpkin Malai Kari and Salted Miso Brownies.https://t.co/VdGJN6DVe5

Thanks to @LEVOoil for supporting this episode! pic.twitter.com/hjHKtPIRPJ

— Heritage Radio Network (@Heritage_Radio) November 16, 2020
There are several interesting things about this tweet:
The account name is "Heritage Radio Network"
In the bio it says: "A nonprofit, member supported, #FoodRadio station in Brooklyn, NY".
Name and bio together sound as if they really care about vintage stuff.
More than 13,000 people follow that account, so there must be some real interest, here.
The tweet mentions two more accounts: @cathyerway (host of the show and book author herself) and @meerasodha (Guardian columnist and book author).
Both women have more than 10,000 followers each. Again: Some real interest, here!
OK, so let's try to explore an audience, starting with these three accounts: one radio station and two people.
Understand what the people need
Now that we know who will be the "root" of our audience, let's drill down into
what they say
who is it that says it
when they say it
Create an audience
Open Get The Audience and login with your Twitter account.
Now click…
Enter Cookbooks as a sample audience name, and My first audience as a sample description of that audience.
Confirm with a click on Create Audience.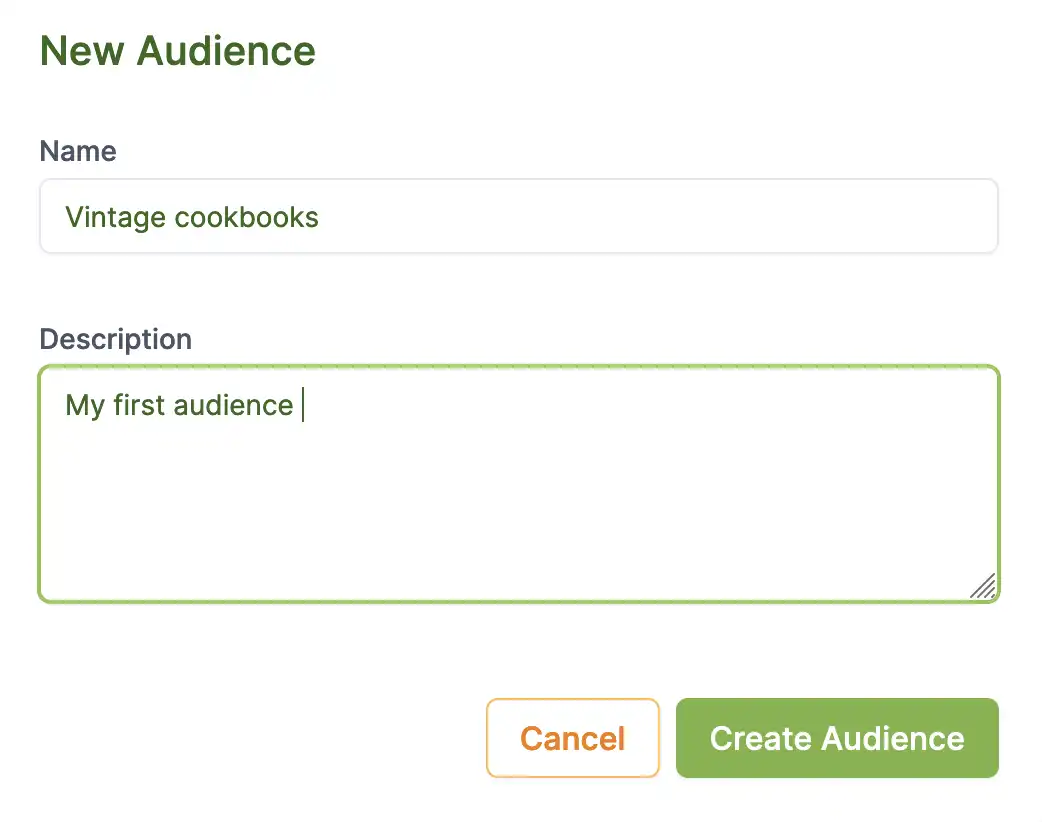 To explore the Cookbooks audience, click…
You are now in the audience explorer. Here you will spend most of your time and learn the most about your audience.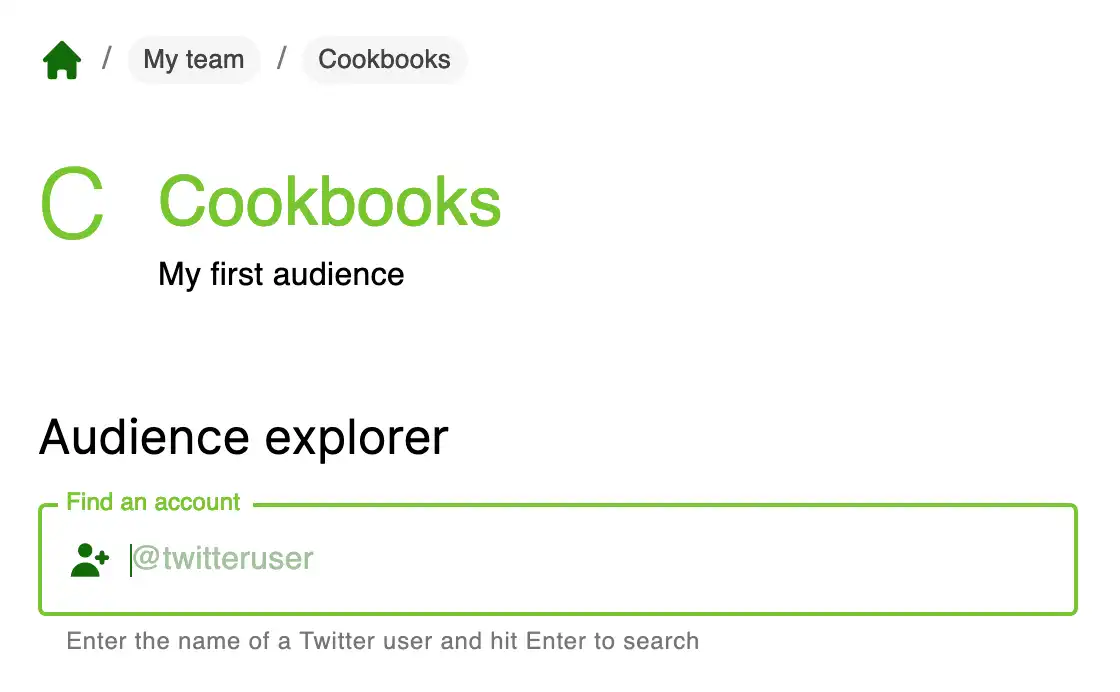 You see that long search field in the middle? Enter these three Twitter accounts, one by one, and hit Enter after each one:
Heritage_Radio
meerasodha
cathyerway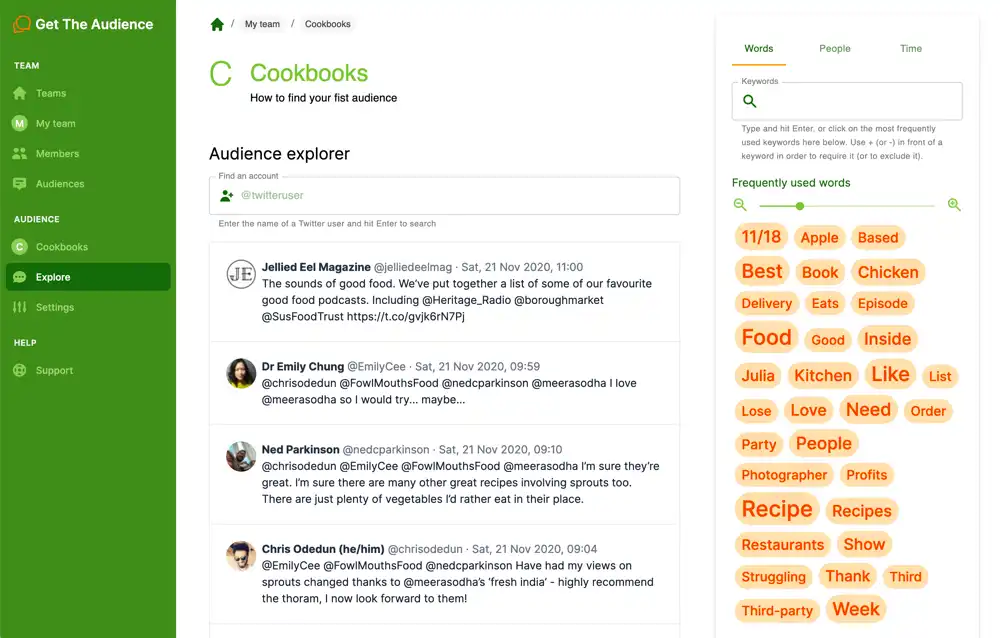 You will see that the screen fills with their tweets, and the Words pane fills with the words that they most often use in their tweets.
Find out what they say
You can scroll through their tweets. When you click on a tweet, Twitter will open and show you exactly that tweet so that you could join the conversation, immediately. But wait, there's more!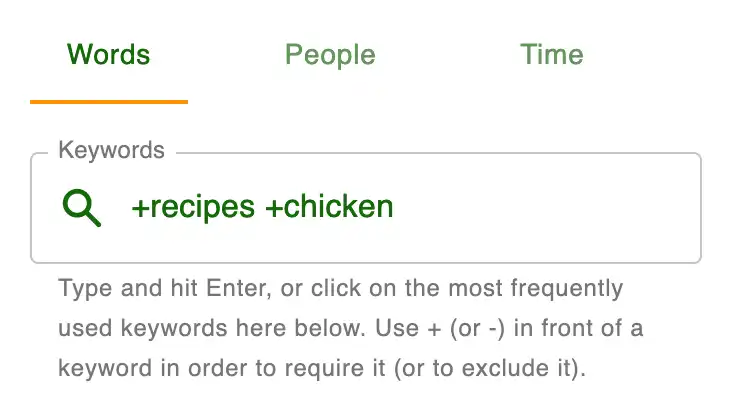 You can search for certain words in their tweets, using the small Keywords box in the Words pane.
The Keywords box allows you to add words in three different ways:
with a plus sign: makes the word required
with a minus sign: excludes that word
just the word itself: makes it searchable but not absolutely required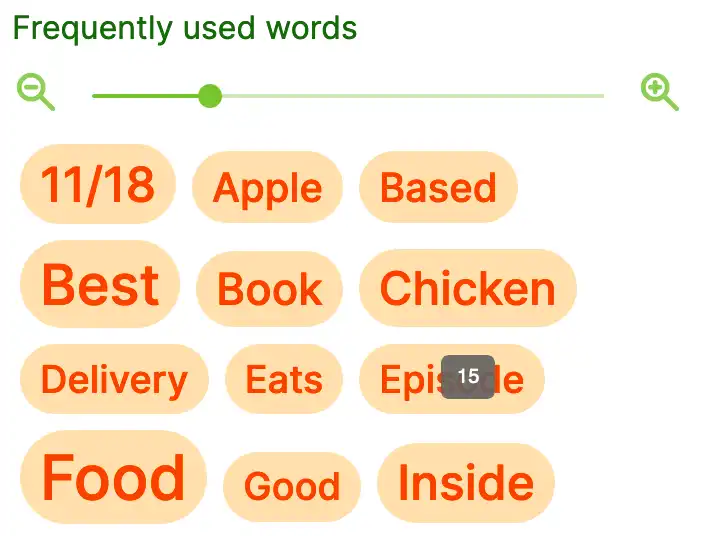 You can also click on the orange bubbles that contain the most often used words of your audience. Every click adds a word to the Keywords box so that the number of tweets in the middle gets smaller and smaller. That way, you can drill down into what your audience says.
When you hover over a word in a keyword bubble, you will see a number: that is how often your audience used that word in their tweets.
Learn who they are
Click on the People tab on the right.

You will see lots of profile pictures of Twitter users. Hover over them. You will see their name and where they come from (e.g. "Cathy Erway from Brooklyn, NY").
When you click on a profile picture, Twitter will open and show you exactly that profile.
Find the optimal time to engage
Click on the Time tab on the right.

You will see bars of different length that show you how often your audience has tweeted during a certain hour of day.
A longer bar with a larger number might indicate that that hour of day is a good time to engage with your audience because they tweeted more during that hour.
Select the conversations or people you want to start with
When you have spent some time in the audience explorer you will have a good feeling for what it is all about, who the key speakers are, and when it would be the best time to engage with them.
Now look at the tweets or people again and ask yourself:
At which point would I like to join the conversation?
Engage with your audience
Maybe you see an interesting tweet where a person mentions a problem, and you would like to help them with it. Just click on that tweet and reply to it from within Twitter.
Or do you see an interesting person? Click on that profile picture and then tweet at them to open a conversation!
Conclusion
You have seen how beneficial it is to spend some time on planning the discovery of jour audience.
You have seen how the FUSE process works: Find, Understand, Select, Engage.
And you have seen how easy and focused this becomes with the Get The Audience app. So, why not start right now?
Matthias
P.S.: Whenever you want to give feedback or when you need help, click on the online chat bubble at the bottom right of the screen. I'm excited to hear what you say!
Be the first to know.
Do you like this post? Get articles like this one delivered to your inbox, automatically. Enjoy my weekly insights about how to systematically develop an audience for your product or service!
Email

matthias@gettheaudience.com